Tuesday, June 17, 2008
So its summer now, which usually means I start listening to different stuff. I probably listen to hip hop the most year round, but other stuff creeps in when the seasons change. When snow is on the ground I seem to listen to a lot of Jamaican music for some reason. Sun City Girls are really good for mowing lawns and pulling weeds. I dunno if rain does anything but I'm pretty used to that growing up in Portland and all. Now that its nice out I have been listening to a lot of African music. All sorts of stuff, from older field recording stuff on
Ocora
and
Original
to
that new hiplife comp
. Into
the 70s rock stuff
too. Here's some African jawns i've been digging lately:
Pekos and Yoro Diallo - S/T (Yaala Yaala)
This is the only disc I have heard on Drag City's Western Africa spin off label Yaala Yaala so far. Just listened to it for the first time today. Very strange music. I am really not sure if Pekos and Yoro Diallo are separate groups or if the music is all made by one group. I am kind of guessing Yoro Diallo is the vocalist, and Pekos are the band. The folks over at the great
Awsome Tapes From Africa
have a different Yoro Diallo tape up as well (which I remember being great). Strange ranting vocals over even stranger strings and this metal scraping instrument that makes it sound like there is mic feedback all over the disc. It's REALLY weird. Here's the first track on the CD.
Pekos and Yoro Diallo - Untitled Track 1
VA - African Scream Contest: Raw & Psychedelic Afro Sounds from Benin & Togo 70s (Analog Africa)
This is the New "African Scream Contest" comp aka "Togo Soundz", a really nice African rock collection that came out this March. This project started off as a
record collectors
trip to Cotonou and ended up becoming a large research project on the 70s musicians of the area. While people whine about a lot of similar labels for not really working with the artists on their comps, this release was well researched with a lot of work done with the musicians and sound engineers themselves. This is probably my favorite joint on the CD, but the whole disc is a really solid and up there with the
Soundway
comps. You can also get another mix of similar jams on the
Analog Africa blog
as well as some other free tracks from the CD. Really great cover art.
El Rego Et Ses Commandos - Se Na Min
VA - Zulu Songs from South Africa(Lyricord)
I couldn't find the cover of this online, so the closest thing I could find was a picture of Jude Law and some Zulus. I don't know too much about
the largest south African ethnic group
or their music aside from the fact that Paul Simon likes it and "Wimoweh" was a rip off of a big South African hit from the 40s. My good buddy Grisha ripped this LP and uploaded it for everyone to enjoy. What he says about the LP (as I can't find any info on the LP online): "Recorded in 1982, but released in 1987, it is relatively new. which means it's very well recorded and has the musicians listed (the tracks are tagged accordingly). I bought mine sealed at mondo kim's in 2006, but right now it seems to be unavailable, at least online, so here it goes. One of the most immediately enjoyable african folk music collections I heard". I agree with him on the last part for sure. Big thanks to Grisha for this wonderful music (I actually think I was at Mondo Kim's with him when he bought it when we were both in NYC for the last Erstquake two years ago)
Download it Here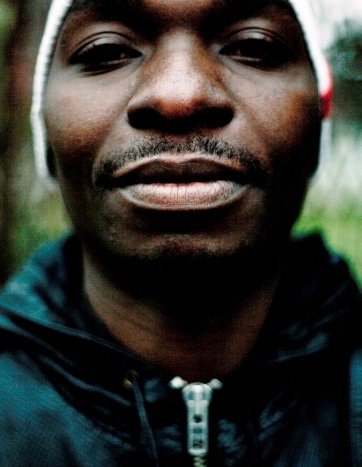 Esau Mwamwaya - Tengazako (Radioclit Paper Planes Edit)
While Esau doesn't currently reside in Africa, He is from Lilongwe, the capital of Malawai in East Africa. Now he lives in East London and met the Radioclit boys after they bought a bike from his store. They have recently finished an album, in which you can see a "making of" video
here
. Esau kills the M.I.A. joint dead on this one. I really enjoy what I've heard from this cat and look forward to hearing the new album. Dude has a great smile as well! More music and info can be heard on his myspace
here
.
My plan is to do an African Music post like this once a week this summer. Enjoy!
P.S. I'm really glad the lakers didn't win.
Tuesday, June 10, 2008
Killer Mike - Scared Strait
(from "Monster")
Killer Mike - Deuces Wild
(from "I Pledge Allegence to The Grind")
Killer Mike - Shot Down
(from "Ghetto Extraordinaire")
For a Grammy Award Winning rapper with music in video games Killer doesn't get enough attention. Probably my favorite rapper at the moment both musically as well as in
interviews
. Somebody that would be a big problem with the right production team. A track from each of his three releases(I think?). Hopefully I.P.A.T.T.G. II comes out in july like its supposed to.
O.V. Wright - Everybody Knows (The River Song)
(from VA - "Down & Out")
O.V. Wright - He's My Son(just the same)
(from VA - "Down & Out")
O.V. Wright - Lets Straighten it Out
(from VA - Soul Sides vol. 2: The Covers)
Certainly THE southern soul dude with a lisp. Dying before he reached 42, Wright was a lot more prolific than it seems. Only a few of his 10 albums are in print or where ever put on cd. Aside from a few best ofs, the only thing thats really in print is a ridiculously expensive Japanese boxset. Maybe thats a sign that more will pop up? The first two cuts here are from the "Down and Out: The Sad Soul of The South" comp on Trikont. "Everybody Knows" is like a broke ass version of Sam Cooke's "A Change Gone Come". The whole Trikont comp is very much worth hearing as well (Johnny Copeland's "Ghetto Child" is on there too). "Lets Straighten it Out" from one of the Soul Sides comps is the backbone of U.G.K's "Quit Hatin' The South". One of the finer examples of ripping someone off.
Bright Light Quartet - Straighten 'Em
(from "Southern Journey Vol. 6")
Bright Light Quartet - The Prayer Wheel
(from "Southern Journey Vol. 6")
Bright Light Quartet - I'm Tired
(from "Southern Journey Vol. 8")
There isn't any info on this group so obviously there's no picture. I don't really enjoy looking at Alan Lomax but he will do. I don't really know what to say about this stuff. I have about 10 tracks from this group, most of which are on the Lomax "Southern Journey" collection. An odd contrast when put next to Fred McDowell and prison field recordings and such. This stuff almost sounds more "modern" for the time it was recorded(1959).
Posted by

Dave Quam
at 11:47 PM
0 comments


Nashville rapper All $tar has caught my attention lately. Before mr Noz over at cocaine blunts put up his
"Jackin 4 Beats"
track the other day, I really only knew his (only big) single "Grey Goose"from 3 years ago. Only 23 and the kid can certainly rap. Too bad he can't get
an album out
. The guy is nice enough to let you download a bunch of tracks from
his myspace
page (as well as two of his earlier mixtapes) for free. His new double cd mixtape "Starlito's Way II" is out now. Already supposed to have 9 mixtapes out, might make it to 100 of them before his record drops.
Posted by

Dave Quam
at 11:28 PM
0 comments


Trying this blogging thing again
I am not sure how, but for some reason this track from "Return to The 36 Chambers" never really caught my attention until recently. I've probably watched the Brooklyn Zoo video 100 times, but this one was hiding from me. I think the late Dirty was hanging out with Ghostface at karaoke bars a lot, because he had the whole sing-rap version of Jim Croce down pretty well. Can't think of another sped-up-loop production that I'd put in front of this offhand. I know its no longer 1995 and Killah Priest doesn't have a auto tuner but come on, reminisce with me. Its a really scary track.
Will Post a handful of tracks tomorrow I promise.
Posted by

Dave Quam
at 3:18 AM
0 comments