A bit late I guess but this is my loose 2008 list of music that made some kind of impact on me good, bad, or ugly. I really have never finished such a list and it was a bit harder than I expected. I probably listen to too much old music and am terrible with dates. There is no order to these lists. Some have 10 entrees, some have 1. I didn't do a favorite singles list because I don't keep enough track. 2008 was pretty successful, yet there are some serious concerns especially when you look at the lists other people made. I look forward to this year, and hope that it will be year of the Fabo rather than last year as year of the Weezy. We shall see.
PS in 2009, you bitches better leave more comments.

Best Albums:
Jason Lescalleet and Graham Lambkin -
The Breadwinner
(Erstwhile)
Campfires, tape machines, and the sound of a monster snoring, this was the weirdest thing I heard this year.
The Breadwinner
puts Reel-to-Reel fondler Jason Lescalleet up with one third of his favorite band. Lambkin, former member of UKs The Shadow Ring released
Salmon Run
to the world in 2007, breathing new life back into the sound collage genre. The trans-Atlantic collaboration between the two resulted in something not unlike Robert Ashley's
Automatic Writing
, a record sans sound installation that makes your room alive. If these walls could talk...these walls are talking. And snoring for that matter. While certainly Ashley inspired (the cover itself is a replication of 78's
Private Parts
)
The Breadwinner
doesn't sit still and provides a real challenge for both the listener as well as the acoustics of the space your in. One of the most perfect meetings of musicians these ears know, and I am fully satisfied I spent my beer money on this CD.
E 40 -
The Ball Street Journal
(Reprise)
After 40 Water brought the under-appreciated bay back into view with "Tell Me When to Go", things looked good for Earl and his crew. Unfortunately the bay still can't compete with it's successors out east and in the confederate states, and I doubt
The Ball Street Journal
will change anything outside of northern California. For years there's been a heavy weight put on 40 to do for the bay what "Still Tippin" did for the south, but with the state that hip hop is in post-Weezy it might be a while or never before California gets back on the map. On first listen pretty much an extension of
My Ghetto Report Card
with more non-bay appearances, maybe just being a huge fan of the dude made me like it regardless. Multiple listens resulted in Earl selling me a flat tire for my bike, going to a 40 Water intervention, and being beamed up by father-son spaceship the Droop-E machine. The guy has put in almost 20 years in the rap game and is still the most out-there dude on ether side of the Mississippi. File under Yay Area minimalism and progressive thizz.
Chancha Via Circuito -
Rodante
(ZZK)
Yall already know about my love for ZZK records and I already did a review of this Cumbiastep jewel a few weeks ago so no need to restate why I like it. That motherfucker is nice. Ride that circle train!
Z Ro -
Crack
(Rap-A-Lot)
Your favorite emo rapper pretty much hasn't made a bad album and continues to provide us with the dark side of the screw. Still as "relentlessly bleak" as the Village Voice says, still as good as goth rap gets.
..."But Them broads I deal with got me still singing I hate you bitch"
. Dude just doesn't like people very much. Him and Trae's ABN album is an honorable mention, but I'm more interested in Mr lonely by himself than two assholes doing Houston throwbacks. My one complaint, he did not use this brilliant cover for the final product. Hang in there buddy and come out of your room for once, some humans are pretty decent.
G Side -
Starshipz and Rocketz
(Slow Motion Soundz)
This space rap doesn't come with ice cream sneakers or yachts but rather memories of freestyling at the lunch table. Slow Motion Soundz and the rest of the Huntsville crew of raver-hoppers got picked up through the powers of myspace, soon approaching Weezy level freak hype for both the white collars and the white belts. Bama is nuts right now. Whether or not you want to admit it, the most anticipated (by myself included)
Fear and Loathing in Huntsvegas
consisted of songs that were already on other mixtapes or mediocre remixes of them, so it was nice that
Starshipz and Rocketz
was there to provide relief for those of us with the hunger. It's rather unfortunate how this crew has been a victim of so many blogremixes, because the originals are key. I'm still trying to figure out Block Beaterz, some kind of Organized Noize-Psy Trance wooziness. What drives these guys to use techno and Enya samples is beyond me. I guess this is the era where it's ok to turn nu-metal bands into Baltimore house tracks so I'll leave it at that. Southern rap has really been creeping out of all the corners lately and Alabama has proven to be another hot spot for creativity in a genre of music with more than sub-genre plagues the Pharaoh of Egypt.
Salem -
Fuckt
(Disaro)
Three like-minded cats with an upbringing in northern Michigan; this is what happens when some goth kids get a hold of early Three Six Mafia. Think
Late Night Tip
playing as your banging a crack whore. Salem is a breath of fresh air for those of us dealing in Screwgaze, a slowdive into Middle America's bleak landscape. Coldwave with a cold chain, and more exciting than most outsider interpretations of the purple stuff.
Fuckt
is a CD-R collection of mostly older tracks, including their cover of the bosses
Streets of Philiadelphia
and their best rap track to date
Trapdoor
. Not very clear on the details, and those of us that heard it found it in Rapidshare links. "Not-Rap" with the clap, and living proof that the Midwest is a scary place.
Not actual cover art
Maga Bo -
Archipelagoes
(Soot)
A hitchhikers guide to Shantystep. Ridiculous genre names aside, Rio de Janeiro based DJ and producer Maga Bo is keen on providing us pretend urbanethnomusicologists with bass in times of relief. Hard to pin down in any kind of feasible category,
Archipelagoes
is global force to be reckoned with. A Capoeira circle of fire and an index of beats with no classification. So Much respect is paid towards the music surrounding him in his travels but not a case of the
Graceland
Paul Simons. With a massive array of mixes from Samba to Soca under his belt, his nomadic sound system keeps giving.
Crucial Conflict -
Planet Crucon
(Buckwild)
The same guys wearing overalls talking about hay in the middle of a barn are back 10 years later and they are just as weird. Theres a place in Chicago called Lawndale, but most know it as K-Town due to the N/S streets all starting with the letter K. It was this neighborhood that MLK Jr marched for equal housing, Willie Lloyd started the Vice Lords, and the first wave of Chicago westside rappers shaped that Chicago gutter sound. The Adrenaline Rush sound that along with the Legendary Traxter and Twista, Crucial Conflict created. I was at a huge warehouse party in Chicago last May in which I found myself talking to Kilo, complete with two C sideburns and sunglasses with only one lens. He encouraged me to check out the new album whether I download or buy it, and a few weeks later I did. This album is a great revamping of that west side heart pounding, funkier than it ever was complete with
the Funkateer
himself on board. With so much attention pointed towards the No I.D. and Kayne schools of Chicago, the west side remains forgotten for most, which is a shame for one side is channeling Parliament, while the other channels Lionel Richie.
The Magic ID -
Till My Breath Gives Out
(Erstwhile)
Once upon a time in the 1960s, revolutionary electro-acoustic group AMM played a party in London in which all four Beatles were sitting on the couch. Paul McCartney has cited said band as a main influence on their studio experiments at Abbey Road, and the scraping cymbals and tabletop guitar would be mimicked by Syd Barrett and co on
Piper at the Gates of Dawn
. This influence of improvisation and unconventional means of making music has floated around the realm of pop for years, so it only makes sense that these four Berlin musicians would give a record like this a shot. Giving birth to the newest Erstwhile imprint Erstpop,
Till My Breath Gives Out
is a tighter, more songy extension of Christof Kurzmann's Schnee project that somewhat makes me think of the third Velvets album if it were produced by Sister Ray. The are of music under discussion needed some twee, and The Magic I.D. show us that electro-acoustic pop music is something to be excited about.
El Remolon -
Pibe Cosmo
(ZZK)
Marching along with a murguetón band drunk as a skunk through the post-economic crash Argentinean landscape,
Pibe Cosmo
is an environmental barrio record leaving no stoner behind. As if Alan Lomax had a pot leaf keyboard and a bottle of cheap Chablis, this is the sound of tin roofs shaking. Really feels more like a Reggaeton record more than anything, but with a set of rhythms that don't tend to any rules. Another great ZZK record once again renewing my slavery to the stomp.
Honorable Mentions:
English and Toshimaru Nakamura -
One Day
Scarface -
Emeritus
A.B.N. -
It Is What It Is
The Bug -
London Zoo
Buraka Som Sistema -
Black Diamond
Best Compilations
:
VA -
ZZK Sounds vol 1
(ZZK)
Pretty obvious from my list that I dig on Cumbia and all the ZZK guys. Mr Chancha gave me one of these and man if CDs had grooves they would be warn out. More than just an intro to the digital Cumbia going down in Argentina and elsewhere, a great disc of music showing how versatile the music can be. Everything from Cumbia Villera to Cumbiastep to Cumbia Concret, that slow step from over 100 years ago is still banging hard.
VA -
Black Stars Ghana's Hiplife Revolution
(Out Here)
Lovely collection of what modern Ghanians are up to these days. With all the old (yet lovely) Highlife and African rock comps pouring out these days, it's great that this one caters to the music that is actually being made in present day. African's didn't stop making music in 1979, and their vision of hip hop and electronic music is important too. Attention has certainly started shifting towards Kwaito and Kuduro within the last year or two which definitely makes me an even more overwhelmed African music geek. Contains the monster club bangers of Accra and its surrounding area such as V.I.P.s
Ahomka Wo Mu
.
VA -
Urban Rai 2008
(EMI France)
With so much fuss made about the Autotuner this year, it only makes sense that Rai created such hype. Much of the singing the Algerians employ already sounds like its naturally pitch corrected and therefore the two go hand in hand. This double CD collection of popular Northern Africa joints is a great way of getting a feel for the state that this music is in now, and how weird the synths can be. Cracks me up how N
OW That's What I Call Music
the packaging is, but in reality it really is kind of the Rai version of such. Now us westerners can fetishize music in three languages we don't understand.
Best Mixes
:
Sonido Martinez -
Rebajadas Van A Brooklyn
(Dutty Artz)
Bolivian DJ Sonido Martinez shows us how to do the Rebajada, or rather shows us how to play Cumbia with the batteries low. Flawless mix that contains some of the wackiest Cumbia around including a cover of Rod Stewart's
Do You Think I'm Sexy
. Not exactly screwed and chopped, but that's what the Choppaholix are for. Great cover art.
Flosstradamus -
Mad Decent Dancemania/Juke Podcast
(Mad Decent/The Internet)
Just a Mad Decent Podcast and not an actual physical release, this was easily one of the things I listened to most in 2008. A great intro for anyone interested in Chicago Juke/Ghetto Tech/Ghetto House music, and a great selection of tracks from the infamous Dancemania Records. Before I saw these guys live in Portland, their mixes I heard were honestly pretty bland. There was something there, but it didn't feel right listening to it on headphones in my bedroom. The reason for this is that they are live DJs/killer party makers. After a few beers I danced so hard I lost my phone. Technically these guys are amazing DJs. Their mixing is on point and they can be a lot more out there than they might seem, yet still having such great crowd control. Being impressed with their live energy and being a subscriber to the MD podcasts, I gave this one a shot. A flawless mix that couldn't have come at a better time in my Juke obsession. Lots of classic joints here from Slugo, Deeon, and Chip, along with some non-Dancemania Juke remixes all put together in the most fun way possible.
Gabriel Heatwave & Ben Dubstar -
The Heat Wave Immediate Sounds
vol. 1 (The Internet)
Killer mix of Archipelago raver music that doesn't come up short in exposing the insanity of current Caribbean music. Rudeboys jamming synths and a bunch of whistles. Available free via the net for all of us nerds that desire the finer ting tings in life.
Best Reissue:
Main Source -
Breaking Atoms
(Wild Pitch)
Not to get all backpacker nostalgic for something I hadn't even heard until recently, but it was nice to see one of the finest examples of rap music put back in print this year. Large professor and crew gave us this sampledelic slice of greatness almost 20 years ago that remain unheard for years due to Wild Pitch going under and plagues of legal troubles. Much fresher to these ears than most music that came out in the golden age so many hump. The boom bap shall forever rest in peace, but it's not easy to forget hip hop as such with so much soul and experimentation.

Best Mixtapes:
VA -
The Sick Wid it Umbrella vol 2: The Machine
(Sick Wid it)
Twittery synths, bucket drums, and wooshy claps, these are a few of my favorite things. Adding several to the list of weirdos that walk the ground E-40 paved, this ones even crazy for the yay. As equally absurd are the raps; "It's cookies like Danimals". Nice to see my hometown's Cool Nutz on here along with recent favorites Cousin Fik and Turf Talk. Rick Rock and Droop-E have taken the minimal crunk that Collipark left behind and continued making some incredibly bizarre beats that continue to put a smile on my face. Must be heard if not for that reason than for one of the craziest E-40 verses ever.
Fabo and Dj Coolbreeze -
Kandy Man
"My whole thing is just about getting the hell on, know what I mean?" says Fabo. "Hooking up a spaceship with some 46"s on that motherfucker, aqua, peanut-butter paint job on that sumbitch cause it's
going
. With all my niggas on it, we gonna blow this thing to Mars."
Dear Lafabian,
Please hurry up and put your album out.
-Your biggest fan, Dave.
The lovechild of Bootsie Collins and a martian, Fabo has been standing on the verge of getting it on since the hit labia minora anthem from 3 years ago. That first D4L record was brilliant, and Fabo is keeping the pharmaceutical funk alive while Shawty Lo gets added to the list of crack rappers (not that there's anything wrong with that). This mixtape shows that Fabo isn't just some pill-popping wacko, but a musician who's already proved his potential without even having an album out. From scary flying saucer rap about partying on mars (
Takeoff
) to prime ghetto blues (
Bankhead
), Fabo deploys a range farther than snap rap was intended to go.
The Very Best Mixtape
Esau Mwamawaya and Radioclit show a true bond of friendship and love for fun on their free to all collection of tracks, mashups, and remixes they conducted since they first met. A launching pad to their upcoming album that can be enjoyed by anybody who likes to smile. With so much confrontational music in the world today it's nice that this exists for us to sit back and feel happy about. I'm a bit concerned that Esau will fall under some of the bad company he keeps on a few tracks and hope that those surrounding him don't fail to let him show his better side of East African pop music as opposed to letting his soul rot in the depths of countless throwaway remixes this world doesn't need. However, Radioclit have served him well and their album at high expectations.
Doppelganger of the Year
: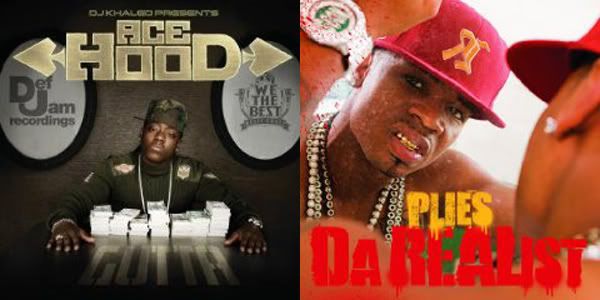 Plies -
Da Realist
(Atlantic) V.S. Ace Hood -
Gutta
(Def Jam)
Two albums so damn similar, both of them rather good. Plies and fellow gladesman Ace Hood side by side tell the Florida tales a lot better than the
2nd Freeway
or the man below. Plies' family drama sad rap is better than Ace Hood's "Stressin", but I think Ace has got the better record. Hard to tell really, and I find the best listen is to both of em together. New gutter Florida rather than the new obnoxious Florida.
Most Annoying Person of 2008
:
DJ Khaled
DJ Khaled: Rick Ross, You The BEEEESSSSTTT!
Rick Ross: I'm the biggest BOSS you seen thus far…
DJ Khaled: I swear you're SO HOOOOOD!
Rick Ross: ROSSSSSSSSS!!!
DJ Khaled: We GLOBAL Now!!!
Rick Ross: M-I-YaYo…..
DJ Khaled: No, We GLOBAL NOW!!!
Rick Ross: No sir, I'm from Miami…Dade County to be exact.
DJ Khaled: Wait, so you're not GLOBAL NOW????
Rick Ross: No sir, I'm from Miami..Sorry!
DJ Khaled: I represent the GHETTTOOOOO!
Rick Ross: That's more like it homey! BOSS!!!
Being a more annoying version of Funkmaster Flex does not make you the best. Khaled stalling up the BET awards with his work ethics is a video worth watching, though I never want to hear this guys voice ever again.
Album I Tried to Like in 2008
:
Santogold -
Santogold
(Downtown Records)
I was psyched to hear this one, but it just left me with an empty stomach. The album definitely seemed like it was lacking something important, and I think that was some meat to chew on. "L.E.S. Artistes", a track making comment on Manhattan hipsters doesn't even make any goddamn sense. You live in Brooklyn girl. Your audiences are kids in tight pants(not that there's anything wrong with that!). Maybe that actually meant something 20 years ago? Her whole "Don't accuse me of being hip-hop because I'm black...I like the pixies" shtick is so unproductive, and as useless as the Pixies are that's really not helping. Unless your completely retarded, listening to 2 seconds of her music would tell you that its not rap.
Top Ranking
gave me reason to not give up, though I was more excited about the tracks absent of her. It's the aimlessness that makes Santogold a safe candidate for Budlime commercials rather than some kind of pop-awareness that she strives for. As cute as she is, I don't mind her presence, but it's gonna take a bit more than a Bad Brains connection for her music to actually matter.
The Worst of 2008
:
Kayne West
The Louis Vuitton Don killed the Autotune Star. Don't get me wrong I like the guy when he's good, but
808s and Heartbreak
was one of the most bland experiments a rapper has ever attempted. Trying so hard to be Justin Timberlake and driving the vocoder into the fucking ground, I can see nose jobs and de-pigmentation in 'Ye's future. Nowhere will you find a better example of music completely devoid of funk.
Girl Talk
I once DJed a party of rich art school kids who kept bugging me to play Girl Talk, and when I played something else they told me to play better Girl Talk. Well, make some better Girl Talk for me to pretend to play.
Charles Hamilton
He's not actually wearing pink, it's amniotic fluid from the abortion of purse rap. Please make the world a better place and pick a different profession Charles. I shouldn't be wasting my time with this one, so with that said...
Shit Sandwich.
Here's to a great year of music in 2009.