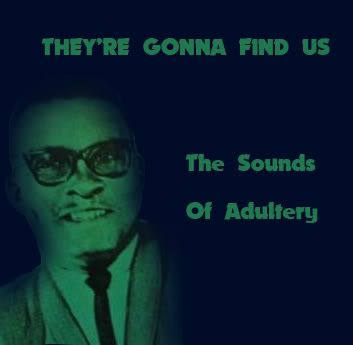 VA - They're Gonna Find Us: The Sounds of Adultery
(2009)
In 1967 while taking a break from cheating in poker, songwriter Dan Penn(penner of The Letter) along with Lincoln Wayne "Chips" Morman wrote At The Dark End of The Street, the tale of illicit love first made famous by James Carr. In under half an hour the two somehow created one of the finest songs of adultery in existence. Rather than a Trapped in The Closet kill the bitch situation, it's told through the eyes of the cheater with the shame of living in the shadows that is burden to both parties.
Inspired by Swamp Dogg, Luther Ingram, OV Wright, and my 15+ versions of said song, I made a short little mix of cheatin' songs to help ease the consciences of those guilty of breaking the 7th commandment. Scattered throughout the mix are versions of Dark End and other lies.
Tracklist:
1. James Carr - At The Dark End of The Street
2. O.V. Wright - He's My Son (Just The Same)
3. Ann Sexton - I'm His Wife, Your Just a Friend
4. Dicky Williams - In The Same Motel
5. Percy Sledge - It's All Wrong, But It's Alright
6. The Flying Burrito Brothers - At The Dark End of The Street
7. Luther Ingram - If Loving You is Wrong, I Don't Wanna Be Right
8. Swamp Dogg - The Baby is Mine
9. Doris Duke - If She's Your Wife Who am I?
10. Percy Sledge - At The Dark End of The Street
11. O.V. Wright - Eight Men, Four Women
12. Dan Penn and Spooner Oldham - At The Dark End of The Street(Live)
(I think the tracklist might shift because my itunes is weird...but thats the order to listen)